research: until 2007
by robert baum, weimar | aberdeen | tokyo
Onging, or completed, Japan related, or non-related, unpublished, and published design and research projects.
2007
Europan 9
 
gerber.beat
type:  
competition entry
language:  
German
design concept:  

gerber.beat gives identity for tenants and visitors of this area.
Between the medieval centre of the city of Rostock and the river Warnow the Gerberbruch area is to be a proud and modern living quarter which adds quality to the city as a whole. Warnow sided canals as well as a city gate building consisting of two separate volumes are unique features that help to clearly differentiate the Gerberbruch area from other city quarters.
gerber.beat is a challenge to improve acceptance of public transport.
By means of a subtle visual interpretation of the daily tramway's timetable, the usability and positive awareness towards public transport shall be improved. As simple and easy as it lights the platform and casts it's informational value even beyond the Warnow, it is identity for the area as well, it's pure heart beat. The colour concept utilises an already established colour scheme for marking the different lines. The beat is web-based as well, for easy access.
gerber.beat elevates ecological aspects.
The modern beat will be sustainability and this is met by the choice of materials, rain water use, avoidance of waste water as well as a green solar and wind energy farm. Furthermore the value of green gardens to improve the quality of live is expressed by implementation of large garden-like balconies and terraces into the building fabric.
gerber.beat connects people.
Not the "main entrance" mentality of a building is chosen but network-like connections. All buildings have four main sides and thus placing themselves into an open position within the quarter. "Open hardware" for networking people. Not the closed off private living room, but an open living area can tackle social isolation and loneliness of single living people.
2006
Japan – Reisen, Jobben, Sprache lernen
| | |
| --- | --- |
| reference:   | Robert Baum, Japan – Reisen, Jobben, Sprache lernen, (Bielefeld: Reise-Know How Verlag, 2006). |
| type:   | book publication |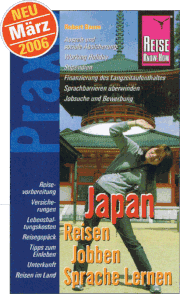 Japan – Reisen, Jobben, Sprache lernen
abstract:  
Dieses Buch wendet sich an Schüler, Studenten, Praktikanten und Arbeitnehmer, die einen Aufenthalt in Japan absolvieren wollen. Es vermittelt alle notwendigen Informationen für die Planung und praktische Vorbereitung und gibt viele Tipps zum sicheren Bewältigen von Alltagssituationen im Land. Um den Einstieg in die japanische Sprache zu erleichtern, sind viele Wörter zweisprachig aufgeführt.

author:  
Robert Baum
release date:  

March 2006

publisher:  

Bielefeld: Reise-Know How Verlag

 [webshop]

 [excerpt]

features:  

176 pages, full color, softcover
language:  


German

ISBN:  

978-3-8317-1488-6
2004
iCon no.1 "Medialer Raum"
reference:  

iCon - ezine for architecture, culture and media, no.1 "Medialer Raum" (28 March 2004) <http://japan-architect.jimdo.com> [accessed *insert date when accessed*]

type:  
collection of essays
language:  

German

table of contents:  

editorial

 

steffen spitzner://filmarchitektur, illusionsmaschine

 

robert baum://neue medien

 

ines habrecht://medienfassade und medienzentrum als hohle phrasen, oder die fassade als medium?

 

britt hoeres://echtzeit - virtualisierung - telematik - das ende der architektur
2001
"Studenten wohnen"
 

11. Rudolf Lodders Preis 2001

type:  

competition entry

language:  
German
competition brief:  

Die Aufgabe besteht in der Untersuchung von den notwendigen und sinnvollen Voraussetzungen studentischen Wohnens und die Umsetzung in einen Prinzipentwurf. Die Lösung soll eine Alternative zu den bestehenden Wohnheimen als auch zu dem Wunsch nach der eigenen auf dem Markt akquirierten Wohnung zeigen. Die Wohnform soll daher genügend Freiraum zur Verwirklichung eigener Wohnvorstellungen als auch genügend Flexibilität gegenüber zukünftigen Entwicklungen bieten, um als Wohnort für die gesamte Studienzeit dienen zu können.

prize:  

Anerkennung [Recognition Prize]

Robert Baum, Bauhaus-Universität Weimar

website:  

 [www.rudolf-lodders-stiftung.de]

 [www.akademie-der-kuenste.de]
2000
Rudolf-Müller-Preis
| | |
| --- | --- |
| type:   | competition entry |
| language:   | German |
1999
World Theatre Prague
| | |
| --- | --- |
|   | 5th OISTAT Theatre Architecture Competition |
| type:   | competition entry |
| language:   | English |
urban and rural studies
| | |
| --- | --- |
| type:   | essay |
| language:   | English |
1998
Norbert Elias und das Einkaufen
| | |
| --- | --- |
| type:   | essay |
| language:   | German |
Eine Auseinandersetzung mit Theodor W. Adorno
| | |
| --- | --- |
| type:   | essay |
| language:   | German |
1997
neue medien
| | |
| --- | --- |
| type:   | essay |
| language:   | German |